Politics & Propaganda
Nick Davies' Flat Earth News: The Ten Rules
Rule 1 – run cheap stories
This rule requires you to select stories that are quick to cover and safe to publish. This discourages tricky investigations and distorts the selection of ordinary news stories in favour of those that are simple, uncontentious and easy to get hold of.
Rule 2 – select safe facts
This rule requires you to favour factual statements which are safe, especially those that can be attributed to official sources. If an official statement accuses a man of being a criminal, you can't be sued for using it, but if a man accuses a government official of being a criminal, it can.
Rule 3 – avoid the electric fence
This extends the rule of safe facts from favouring official sources. Always avoid writing about any organisation or individual with the power to hurt you or your news organisation.
Rule 4 – select safe ideas
This runs parallel to the selection of safe facts by requiring you to select moral and political values which are also safe. In other words, use ideas that reflect the surrounding consensus.
Rule 5 – always give both sides of the story
This is the safety net rule. It means that, if all else fails, and you end up having to publish something which is not safe, you bang in some quotes from the other side to 'balance' the story. Balance means never having to say you are sorry – because you've not said anything.
Rule 6 – give them what they want
Write stories that increase readership or audience. If we can sell it, we'll take it.
Rule 7 – the bias against truth
Don't provide a context, select stories that are short and can be written quickly. 'Short stories, more fun and plenty of variety'.
Rule 8 – give them what they want to believe in
Always select ideas with commerce in mind. Don't run stories that you are not going to get money for. If the public want negative stories about asylum seekers. that's what they'll get.
Rule 9 – Go with the moral panic
This only applies to periods of 'crisis'. Always sell the nation a heightened version of its own emotional state in the crudest possible form. Unlike the other rules, it is compulsory, if you waver and  fail to express your part of the moral panic you will be hunted down and attacked.
Rule 10 – Ninja Turtle syndrome
This requires you to run stories which are being widely publicised elsewhere, even if those stories clearly lack merit.  (Based on parents having to give in when their kids got picked on at school for not having Ninja Turtles).
Nick Davies idea of flat earth news owes a lot to Herman and Chomsky's 'propaganda model' in Manufacturing Consent. The basic premise is that due to increased corporate ownership and focus on profits (with associated redundancies, cost-cutting and targets) journalists are no longer able to check stories like they used to. Combine this with a reduction in the quality of the wire services and increased PR and you end up with stories that are false being widely believed and reported as true – 'flat earth news'.
The above was lifted from here
Excerpts:

The Propaganda Puzzle

From early 2002 newspapers & broadcasters started to report the activities of a terrorist named Abu Musab al-Zarqawi. By the time he was killed by an American air strike in Iraq in June 06' Zarqawi had become the most notorious Islamist fighter in the world, exceeding even Osama Bin Laden in the scale of killing attributed to him. We now know that a high proportion of what was said about Zarqawi was false.
The Zarquai story is important, not just because it is in itself such a striking example of Flat Earth News but also because of the clues which it yields to a sudden surge in the activity of a key supplier to the news factory - the secretive nexus of intelligence agencies & of military units & government departments which produce what is officially known as 'strategic communications' #Iraq #Iran 'Crude propaganda is a familiar friend of power.' Flat Earth News
The Private Life of Public Relations

Most PR activity does not involve outright falsehood. If you trap a PR officer in the corner with a hostile question. Some of them will certainly lie; & there are some stunning examples of PR companies engaging in the dirtiest of dirty tricks. More often the PR will distort - a gentler, albeit almost equally destructive art which involves the judicious selection of truths & issues & often very skillful manipulation of reporters to persuade then to focus only on those chosen angles.
Download The Blinded Observer, an excerpt from Flat Earth News here 
The Blinded Observer
Something important happened to the Observer in the build up to the invasion of Iraq. (Rejection of stories that there were no WMDs)..While the paper was engaged in publishing a sequence of high profile, high volume falsehoods about the alleged threat from Iraq, some of Which went far beyond false claims that were made in other media. As the deadline drew nearer th paper declared its support for the war This was a paper which historically had positioned itself on the left of centre & had taken some pride in its willingness to swim against The mainstream, to confront the power elite if that is what its principles demanded. Famously the paper had stood out against invasion. The British invasion of Suez in 1956. Yet this paper which had thrived on scepticism was seduced into accepting unproven & extravagant claims; this flagship of the left was towed along in the wake of a determinedly right wing U.S govt; on this crucial long running story.The essential role of journalism, to tell the truth, was compromised.
Back Story
Working with a network of off-the-record sources, Davies uncovered the story of the prestigious "Sunday" newspaper which allowed the CIA and MI6 to plant fiction in its columns; the newsroom which routinely rejects stories about black people; the respected paper that hired a professional fraudster to set up a front company to entrap senior political figures; the newspapers which support law and order while paying cash bribes to bent detectives.
Davies names and exposes the national stories which turn out to be pseudo events manufactured by the PR industry, and the global news stories which prove to be fiction generated by a new machinery of international propaganda. He shows the effect of this on a world where consumers believe a mass of stories which, in truth, are as false as the idea that the Earth is flat - from the millennium bug to the WMD in Iraq - tainting government policy, perverting popular belief.
With the help of researchers from Cardiff University, who ran a ground-breaking analysis of our daily news, Davies found most reporters, most of the time, are not allowed to dig up stories or check their facts - a profession corrupted at the core.
Flat Earth News: Fair comment, or cover-up?
3 March 2008
By Nick Davies
What is the truth about the attacks on the chapter in Flat Earth News dealing with the Observer's disastrous coverage of the build-up to the invasion of Iraq? Are they fair comment? Or cover-up?
One of the most outspoken critics was himself one of its primary sources. Speaking off the record, he gave me detailed support for statements which he is now attacking.
Also off the record, he read and approved the entire chapter, apart from one sentence, which I changed. And yet, once the book came out, he publicly denounced it. And he refuses to admit his role. Why?
In last week's letter to Press Gazette, Observer executives Paul Webster and Peter Beaumont dispute my account of the friction surrounding publication of a story about the Americans spying on UN delegates.
They claim there was no ideological resistance to it, and they cite the lead reporter on the story, Martin Bright, saying it was handled "impeccably" by the then editor, Roger Alton. So why didn't Bright sign the letter?
Interpretation
Since the letter's publication, Bright has told me: "The question of whether Roger's behaviour was 'impeccable' is open to interpretation. We did have to work hard to get that story in the paper, both because of the ideological resistance and because we needed to verify it.
"It would have been great to have had a crusading anti-war editor who would have really put a rocket under the story and pursued it week after week immediately after we broke it. But Roger believed in the war.
"This is why, on this particular story, I believe he behaved as well as can be expected. I would have preferred it if you had interpreted the episode in a different way – ie that it was an example of the extraordinary forces washing around the Observer at the time, rather than an example of Roger's weakness, because in this case I believe he was allowing his journalistic judgement to win out over his own political position.
"But you are perfectly entitled to your interpretation and, by-and-large, I thought the thrust of the chapter was right. The Observer went through a very dark, difficult period in its history."
The Observer's then political editor, Kamal Ahmed, has quarrelled with my account of what happened when, on the Prime Minister's flight to Washington DC in February 2003, he was called forward by Alastair Campbell, allegedly to give advice on the "dodgy dossier".
I spoke to others from the plane and confirmed that Kamal had indeed been called forward, but I was still unsure about exactly what had happened.
Eye-witness
In the end, I spoke to an eye-witness, whose account I used in the book. It is worrying that Kamal now denies this account, because he was that witness (in a phone call which I tape-recorded).
The Observer chapter is built on a foundation of checks:
1. I was told that on seven occasions The Observer failed to publish stories from its US correspondent, Ed Vulliamy, with on-the-record evidence that the CIA no longer believed that Iraq had WMD. I traced Vulliamy's source; met him in Washington DC, and confirmed the facts. I then managed to retrieve from a computer hard drive the original copy he had filed.
2. I was told that one of the paper's most experienced reporters, David Rose, had published a series of false stories from intelligence sources. To check this, I dug out the stories, did extensive work on their content and found they were false.
I then had a series of lengthy conversations with David and traced their origin back to two senior CIA figures, Iraqi exiles, and, to a lesser extent, MI6. When David read the chapter, he had the courage to call me to tell me that what I had said about him was accurate.
3. I was told that the paper's then political editor, Kamal Ahmed, had published false stories which had been passed to him by Government sources. To check this, I dug out the stories, and did extensive work on their content. I then had a lengthy conversation and an exchange of detailed memos with Kamal, who surprised me by standing by every word he wrote.
4. I was told that the majority of those who took part in the leader writer's conference were anti-war, that the editor, Roger Alton, struggled to persuade them to adopt a pro-war line and finally, bizarrely, simply failed to show up at the final conference which, in the absence of any chance to debate with him, decided to support the war.
To check this, I spoke to several of those who took part in the conference, who independently confirmed all this.
Allegations
There is no contentious statement in that chapter which has not been checked and endorsed from at least two independent sources, documentary or human. One key figure told me there was "a circle of resistance" to anti-war stories. This source texted me after the book was published: "Totally accurate and very interesting."
In his letter to Press Gazette, Paul Webster complains that I did not put the allegations personally to the paper's then editor, Roger Alton. What he does not say is that that was because I put them on the record to Alton's deputy – the self-same Paul Webster. Why didn't he mention this?
Fair comment or cover-up? Perhaps the answer lies in thinking about two other questions: why did The Observer not hold an internal inquiry to find out why it ran so much falsehood on the defining story of our era, and why has that paper never apologised to its readers for misleading them so grievously?
Propaganda: As the drums of war beat for Iran, please read excerpts from George Orwell's 'Notes on Nationalism'
'All the war-propaganda, all the screaming and lies and hatred, comes invariably from people who are not fighting.' George Orwell
'When the doors of our perception are cleansed, we will see things as they are as opposed to the way they are not.' Friedrich Nietzsche
Part 1 of 2

There is a habit of mind which is now so widespread that it affects our thinking on nearly every subject, but which has not yet been given a name. As the nearest existing equivalent I have chosen the word 'nationalism', but it will be seen in a moment that I am not using it in quite the ordinary sense, if only because the emotion I am speaking about does not always attach itself to what is called a nation — that is, a single race or a geographical area. It can attach itself to a church or a class, or it may work in a merely negative sense, against something or other and without the need for any positive object of loyalty.
By 'nationalism' I mean first of all the habit of assuming that human beings can be classified like insects and that whole blocks of millions or tens of millions of people can be confidently labelled 'good' or 'bad'. But secondly — and this is much more important — I mean the habit of identifying oneself with a single nation or other unit, placing it beyond good and evil and recognising no other duty than that of advancing its interests. Nationalism is not to be confused with patriotism. Both words are normally used in so vague a way that any definition is liable to be challenged, but one must draw a distinction between them, since two different and even opposing ideas are involved. By 'patriotism' I mean devotion to a particular place and a particular way of life, which one believes to be the best in the world but has no wish to force on other people. Patriotism is of its nature defensive, both militarily and culturally. Nationalism, on the other hand, is inseparable from the desire for power. The abiding purpose of every nationalist is to secure more power and more prestige, not for himself but for the nation or other unit in which he has chosen to sink his own individuality.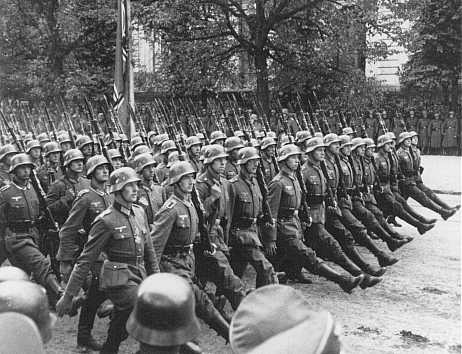 Obsession. As nearly as possible, no nationalist ever thinks, talks, or writes about anything except the superiority of his own power unit. It is difficult if not impossible for any nationalist to conceal his allegiance. The smallest slur upon his own unit, or any implied praise of a rival organization, fills him with uneasiness which he can relieve only by making some sharp retort. If the chosen unit is an actual country, such as Ireland or India, he will generally claim superiority for it not only in military power and political virtue, but in art, literature, sport, structure of the language, the physical beauty of the inhabitants, and perhaps even in climate, scenery and cooking.
Instability. The intensity with which they are held does not prevent nationalist loyalties from being transferable. To begin with, as I have pointed out already, they can be and often are fastened up on some foreign country. One quite commonly finds that great national leaders, or the founders of nationalist movements, do not even belong to the country they have glorified. Sometimes they are outright foreigners, or more often they come from peripheral areas where nationality is doubtful. Examples are Stalin, Hitler, Napoleon, de Valera, Disraeli, Poincare, Beaverbrook. The Pan-German movement was in part the creation of an Englishman, Houston Chamberlain.
Indifference to Reality. All nationalists have the power of not seeing resemblances between similar sets of facts. A British Tory will defend self-determination in Europe and oppose it in India with no feeling of inconsistency. Actions are held to be good or bad, not on their own merits, but according to who does them, and there is almost no kind of outrage — torture, the use of hostages, forced labour, mass deportations, imprisonment without trial, forgery, assassination, the bombing of civilians — which does not change its moral colour when it is committed by 'our' side.  The Liberal News Chronicle published, as an example of shocking barbarity, photographs of Russians hanged by the Germans, and then a year or two later published with warm approval almost exactly similar photographs of Germans hanged by the Russians.
It is the same with historical events. History is thought of largely in nationalist terms, and such things as the Inquisition, the tortures of the Star Chamber, the exploits of the English buccaneers
(Sir Francis Drake, for instance, who was given to sinking Spanish prisoners alive), the Reign of Terror, the heroes of the Mutiny blowing hundreds of Indians from the guns, or Cromwell's soldiers slashing Irishwomen's faces with razors, become morally neutral or even meritorious when it is felt that they were done in the 'right' cause. If one looks back over the past quarter of a century, one finds that there was hardly a single year when atrocity stories were not being reported from some part of the world; and yet in not one single case were these atrocities — in Spain, Russia, China, Hungary, Mexico, Amritsar, Smyrna — believed in and disapproved of by the English intelligentsia as a whole. Whether such deeds were reprehensible, or even whether they happened, was always decided according to political predilection.
The nationalist not only does not disapprove of atrocities committed by his own side, but he has a remarkable capacity for not even hearing about them. For quite six years the English admirers of Hitler contrived not to learn of the existence of Dachau and Buchenwald. And those who are loudest in denouncing the German concentration camps are often quite unaware, or only very dimly aware, that there are also concentration camps in Russia. Huge events like the Ukraine famine of 1933, involving the deaths of millions of people, have actually escaped the attention of the majority of English russophiles. Many English people have heard almost nothing about the extermination of German and Polish Jews during the present war. Their own antisemitism has caused this vast crime to bounce off their consciousness. In nationalist thought there are facts which are both true and untrue, known and unknown. A known fact may be so unbearable that it is habitually pushed aside and not allowed to enter into logical processes, or on the other hand it may enter into every calculation and yet never be admitted as a fact, even in one's own mind.
Much of the propagandist writing of our time amounts to plain forgery. Material facts are suppressed, dates altered, quotations removed from their context and doctored so as to change their meaning.  Events which it is felt ought not to have happened are left unmentioned and ultimately denied.
In 1927 Chiang Kai Shek boiled hundreds of Communists alive, and yet within ten years he had become one of the heroes of the Left. The re-alignment of world politics had brought him into the anti-Fascist camp, and so it was felt that the boiling of the Communists 'didn't count', or perhaps had not happened.
The primary aim of propaganda is, of course, to influence contemporary opinion, but those who rewrite history do probably believe with part of their minds that they are actually thrusting facts into the past. When one considers the elaborate forgeries that have been committed in order to show that Trotsky did not play a valuable part in the Russian civil war, it is difficult to feel that the people responsible are merely lying. More probably they feel that their own version was what happened in the sight of God, and that one is justified in rearranging the records accordingly.
Indifference to objective truth is encouraged by the sealing-off of one part of the world from another, which makes it harder and harder to discover what is actually happening. There can often be a genuine doubt about the most enormous events. For example, it is impossible to calculate within millions, perhaps even tens of millions, the number of deaths caused by the present war. The calamities that are constantly being reported — battles, massacres, famines, revolutions — tend to inspire in the average person a feeling of unreality. One has no way of verifying the facts, one is not even fully certain that they have happened, and one is always presented with totally different interpretations from different sources. What were the rights and wrongs of the Warsaw rising of August 1944? Is it true about the German gas ovens in Poland? 
Who was really to blame for the Bengal famine? Probably the truth is discoverable, but the facts will be so dishonestly set forth in almost any newspaper that the ordinary reader can be forgiven either for swallowing lies or failing to form an opinion. The general uncertainty as to what is really happening makes it easier to cling to lunatic beliefs. Since nothing is ever quite proved or disproved, the most unmistakable fact can be impudently denied. Moreover, although endlessly brooding on power, victory, defeat, revenge, the nationalist is often somewhat uninterested in what happens in the real world. What he wants is to feel that his own unit is getting the better of some other unit, and he can more easily do this by scoring off an adversary than by examining the facts to see whether they support him. All nationalist controversy is at the debating-society level. It is always entirely inconclusive, since each contestant invariably believes himself to have won the victory.
Some nationalists are not far from schizophrenia, living quite happily amid dreams of power and conquest which have no connection with the physical world.
I list below five types of nationalist, and against each I append a fact which it is impossible for that type of nationalist to accept, even in his secret thoughts:
BRITISH TORY: Britain will come out of this war with reduced power and prestige.
COMMUNIST: If she had not been aided by Britain and America, Russia would have been defeated by Germany.
IRISH NATIONALIST: Eire can only remain independent because of British protection.
TROTSKYIST: The Stalin regime is accepted by the Russian masses.
PACIFIST: Those who 'abjure' violence can only do so because others are committing violence on their behalf.
Read George Orwell's 'Notes on Nationalism' here
The Broke Versus the Poor—Both Oppressed

A blogger friend of mine deconstructs the concept of the "99%" and in so doing distinguishes between being broke and poor, in the link below. While I find this distinction a very important one, I think we need to include both the poor and the broke/overqualified and underemployed class in a larger category called "the oppressed". Although the degree of oppression would vary, I think it's a useful term for the global solidarity movement in that it unites all those who are subject to economic, political, social , cultural, and intellectual injustice and domination and represents a nexus for the struggle against Western neo-colonialism/Zionism and class struggle; the struggle against Euro-American imperialism and the struggle against class hegemony. The oppressors in both categories are one and the same.
Excerpts from the blog post:
"Despite the current economic downturn, being white, healthy and educated means upward mobility is within your reach, and automatically places you on top, regardless of your actual income. If you are white, healthy, educated and don't have money, you are broke, not poor….It's not that overqualified, underemployed people don't have a right to be pissed off, or that the majority shouldn't be united by outrage against a system that is rigged to favor a superwealthy minority, but white college grads claiming to speak for the disenfranchised masses isn't solidarity–it's appropriation."



(via resistance-episteme)
A major part of our battle against imperialism is a conceptual/semantic/discursive one . One such example is the need to de-naturalize the now universalized concept of "the Middle East" which has even found its way into our Arabic vocabulary. We need to recall the British colonial origins of the concept—the Near/Middle East vis-a-vis Great Britain, the self-styled geographic "zero-point". We are not "Middle Easterners". We are Arabs. When we start referring to our region as the "Arab world", we not only normalize a new anti-imperialist discourse, but an anti-Zionist one as well, for while Israel can, in theory at least, be considered part of the Middle East, it can never be part of our Arab world.
The ABC of the New Colonial Strategy
A simple guide to colonialism in the 21st century.
Countries A, B and C want to dominate the world's resources and labour. Country D wishes to develop independently. Irreconcilable contradiction. 
A, B and C have money, weapons, media and experience. They might for example stir up conflict between D and E in order to weaken and destabilise D. 
They will almost certainly sponsor unrest within D, sending money and offering training to groups that are favourable to A-B-C aims.
They might apply economic sanctions against D, the effect of which would be to weaken it and to encourage discontent among its population.
Like anywhere else, D is a complex country with its own problems and contradictions. A, B and C will find a way to exploit these. 
A, B and C have the clout to ask the 'international' financial institutions to apply loan conditions of privatisation and deregulation.
Unemployment, rising prices, increasing inequality will help a lot should A, B and C decide to take things to the next level.
Just as social unrest is kicking off in D due to years of neoliberal reform, A, B and C find a way to get weapons to opposition groups.
The destabilisation is backed by a wide-ranging campaign of criminalisation, demonisation and character assassination of D's leaders.
Naturally, D's government isn't going to sit back and be overthrown. So it comes down hard on the attempts to destabilise/overthrow it. 
A, B and C now cry out about D's human rights abuses. Suddenly well-meaning people everywhere are calling for D's government to be taken out. 
Having ensured an absolute minimum of resistance at home, A, B and C go to war to topple D and establish a client state (that recognises I).
Human rights abuses in D increase massively under an unpopular, incompetent, kleptocratic administration. But they go largely unreported. 
D goes from being relatively affluent to being a failed state. It sees starvation, illiteracy and sectarian killings for the first time in decades.
Next year, A, B and C will use the same strategy against E and F. By then, everyone will have forgotten the lessons of D.
Frantz Fanon 'The Wretched of the Earth' - preface by John-Paul Sartre
"Our soldiers overseas, rejecting the universalism of the mother country, apply the 'numerous clausus' to the human race: since none may enslave, rob or kill his fellow man without committing a crime, they lay down the principle that the native is not one of our fellow man"  
"First, we must face that unexpected revelation, the strip-tease of our humanism…It was nothing but an ideology of lies. ..a perfect justification for pillage; its honeyed words, its affectation of sensibility were only alibis for our aggressions."
"There is nothing more consistent than a racist humanism since the European has only been able to become a man through creating slaves & monsters."
"A colonialist found only this to say in defence of the West: 'We aren't angels. But we, at least, feel some remorse.' What a confession!"
On post slavery violence: "They would do well to read Fanon; for he shows clearly that this irrepressible violence is neither sound & fury nor the resurrection of savage instincts, nor even the effect of resentment: it is man re-creating himself"
All above are quotes by Jean-Paul Sartre - in the preface to 'The Wretched of the Earth' by Frantz Fanon
I look forward to continue to read the book, the preface has set it up wonderfully.
Quotes from friends on twitter re Fanon & Sartre
Tekereb Anelim: 'MEDITATE on Pitfalls of National Consciousness - BEST chapter! He's talkin bout puppets in today's #Africa. Fanon = genius!!'
'Issa Shivji, Claude Ake & Walter Rodney when done w/Frantz Fanon :-) then u'll totally undrstnd this country called #Africa!'
Reza Raeezi: 'that is so true. Fanon gave me a whole new way to look at a whole range of things when it comes to race.'
Sara M Salem: 'Yeah whoever doesn't get/agree with Fanon needs to be beaten with the book itself.'
Michael Whelpdale: ' Someone wrote a couple of paragraphs of that on a wall here in marker pen a few months ago.'
Ali Hocine Dimerdji: 'Fanon is a god amongst people. I absolutely love him. Never faltered in his convictions & brilliance.'
'Sartre is interesting. However, his zionism & apologetics for soviet crimes really soured my opinion of him.'
Tweet